It's Friday the 13th. But that's not all! It's also MY BIRTHDAY! Hooray! You never get too old to celebrate, or to curl your hair and dress up for school on your birthday. And so I did.
I got this perfect e-card today from my best friend. Her birthday is Sunday so she can commiserate with me on this whole getting older thing.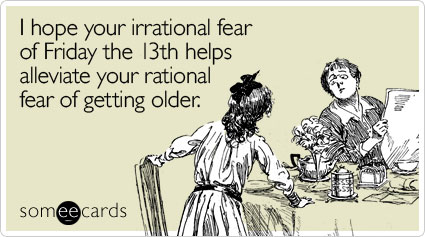 I am 31 years old today. That's so weird to say! I don't FEEL 31! It reminds me of that Grey's Anatomy quote: "We're adults. When did that happen? And how do we make it stop?" Ha! My kids are so sweet though. They think 31 sounds very old. One of my sweet girls said "But Miss Griffin, you're too beautiful to be SO old!". I want to video that and remind myself of it every year! TGIF and have a fantastic 3 day weekend!